Many of us bendies will relate to this! In fact the same thing happened to me – just replace the word masseuse with anaesthetist and the salon with operating theatre.  You get the idea!
Life with a disability can sometimes give rise to unspoken questions and sensitivities, but amid the awkwardness there can be humour. The following is an edited version of a sketch by Angela Clarke who has Ehlers-Danlos syndrome, delivered for the BBC at the Edinburgh Fringe Festival.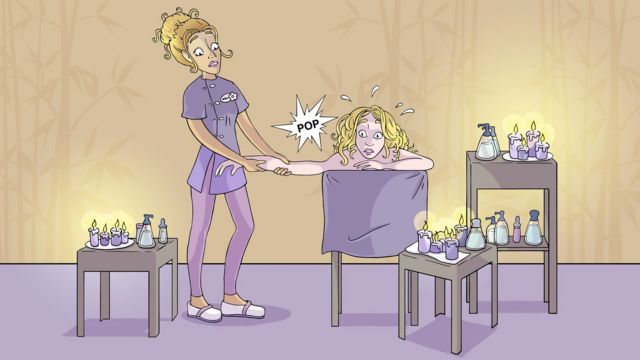 I was away at a fancy spa and thought I'd indulge in a nice relaxing massage as a treat.

The softly spoken therapist, who was called something ethereal and calming like Summer or Melody or Zinfandel Blush, told me she would be using an aromatherapy oil of lavender picked by organically trained squirrels and mermaid tears.

The room was painted in calming shades of rice pudding, scented candles flickered around me and music, which sounded like whales fornicating, played in the background.

I was so preoccupied with getting onto the high massage table that I forgot to mention a vital piece of information – I have an invisible disability. Big mistake.

I have Ehlers-Danlos syndrome (EDS), a debilitating condition which affects connective tissue like skin and tendons and, among other things, means I injure easily.

It's genetic. I got it from my mum. Worst birthday present ever. While some people with EDS have no complications, other than being super-flexible, I get chronic pain, frequent dislocations, and mobility issues. Mum, on the other hand, got straight into advanced yoga…….
………
So there I am, blissed out on the massage table. Zinfandel Blush has marinated me like a chicken breast. The whales are climaxing in the background, and I'm drifting off to sleep.

She runs her oil-covered hands down my arm and gives it a gentle tug to stretch out my stiff shoulder, but it just keeps coming, until pop! It comes clean out of the socket. Dislocated.
Believe me, it gets funnier! For the complete, hilarious post go here – BBC Ouch!